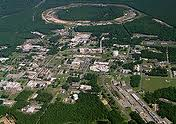 Brookhaven National Laboratory, one of 12 U.S. Department of Energy (DOE) laboratories vested in energy efficiency and renewable energy research and development, has announced it will take part in a pioneering effort to make its research facilities and expertise more readily available to private companies trying to move newly developed technologies from the drawing board to the marketplace.
Called "The Agreements for Commercializing Technology", or ACT for short, the new approach to information and facilities sharing is aimed at cutting through the jungle of red tape that emerges each time the private sector meets the R&D arm of government.
This red tape formerly took the shape of one of two agreements which companies had to sign in order to gain access to the facilities and expertise of the national labs. These are the Cooperative Research and Development Agreement, or CRADA, or a Work For Others (WFO) Agreement.
Both are structured in such a way that the partnership is generally confined to one company and one lab, with precise parameters governing the sharing and transfer of intellectual property (IP) rights, methods of payment, and liabilities or indemnification. And, while DOE labs nonetheless managed to transfer many innovative and important discoveries to the commercial sector (for example, biomimetic membranes for water purification), the logjam such parameters created also means that some superb ideas and discoveries might have gotten buried or set aside.
The new agreement, ACT, removes some of the strictures surrounding IP rights, streamlines project structuring parameters, and provides financial and payment parameters that align better with industry best practices. It also facilitates development of technology by two or more entities – whether companies, universities or startups, in a broader platform of opportunity than was typically available with either the CRADA or the WFO agreement.
As Energy Secretary Steven Chu, head of the DOE, noted, ACT will not only make Brookhaven – and the seven other participating labs – more accessible to industry, and expedite the transition from tech to product, but will also in the process create the jobs which are the natural evolution of commercializing new technologies.