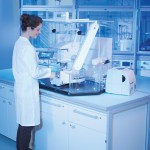 Sample preparation is one of the most pervasive operations in the lab. In many life science labs, sample preparation can consume about 60% of the lab's workload, and it often comprises a number of manual error-prone steps. "Instead of spending time on research, scientists are getting caught up in making buffers and performing sample prep protocols that require significant amounts of manual labor and time," says Nick Herold, a Research Scientist at Perfinity Biosciences, Lafayette, Ind. "Often, a significant amount of time is also devoted to troubleshooting or rerunning experiments."
"These ratios can be reduced down to perhaps 40% with the development of systems that require less user intervention, for example, systems with higher capacities or systems that are integrated to more devices, such as plate sealers and incubators, which allow a more automated workflow," says Rick Luedke, Marketing Manager at Hamilton Robotics, Reno, Nev. "It's also wrong to consider sample prep as an activity that's less important than, say, data analysis. Without robust sample prep processes in place, subsequent results and analyses of the data are compromised."
During the next several years, "miniaturization of sample size, sample prep devices and elution volumes will be a driving trend" for the changes that are expected to take place in the sample prep arena, predicts Paul Boguszewski, Product Manager for Sample Preparation Products at Agilent Technologies in Santa Clara, Calif. "A seamless interface between the sample clean up and sample injection into LC or GC instrumentation will be essential.
Hamilton Robotics' Luedke agrees that users are likely to see easier-to-use sample prep software in the next two to five years. "This will entail easier system set-up and better interfaces, such as touchscreen controls and even voice recognition software controls.
In the modern U.S. and Western European pharmaceutical labs, there are many highly automated sample prep operations. "These labs most likely include at least one autosampler that's capable of performing a protein precipitation step or SPE in a 96-well plate, which significantly reduces the amount of time spent on sample prep," says Phenomenex's Pike. "Online SPE has also helped to reduce sample prep time and is becoming a widely popular solution in big pharma.