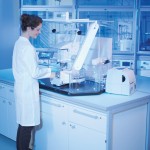 It's probably safe to say that most life sciences startups are familiar with the federal government's SBIR and STTR programs for funding research.
But there are plenty of other federal funding opportunities out there for startups that know where to look.
The Department of Defense, in particular, can be a fruitful source of grant funding for biomedical firms in industry sectors such as telemedicine, infectious disease, chemical defense and environmental medicine, according to Liz Powell, founder of G2G Consulting, a Washington, D.C.-based government affairs group.
Here are five other quick tips Powell shared at a talk on nondilutive funding opportunities that was hosted by Cleveland-based nonprofit business development group BioEnterprise.
Answer the most important question: Is your company's technology novel? You'd better hope so because it will greatly enhance your chances of obtaining funding. If it isn't, you might be out of luck, so be prepared to explain exactly what's novel about what you're doing.
Join the army…: Of the service branches under the Department of the Defense's auspices, the army is the one for biomedical startups to get to know. The army has the most money and is taking the lead in medical research, Powell said. To illustrate the point, she shared the following numbers: The army has 16 laboratories across the nation, with six that perform medical research. The Navy has 17 labs, but just one does medical research.
…But don't limit yourself to DoD: The Department of Defense represents a life sciences company's likeliest path to government funding, but there are plenty of other possibilities, too. For example, last year's health reform law created a $10 billion Center for Medicare and Medicaid Innovation, which is doling out grants to projects that show promise in reducing health costs and improving quality.
Relationships are key: It's easy to get tired of hearing it, but relationships matter — often more than nearly anything else. In that regard, the public sector is no different than the private. Cultivate relationships with key department leaders at government research centers. Invite public officials and elected leaders to tour your facility so you can demonstrate your technology to them.
Show job creation and economic growth: Admittedly, government researchers who control purse strings are generally less interested in creating jobs than they are in advancing technology. But in a bleak economy, they may be the only ones. If you're looking win over elected officials, in particular, be sure to provide credible (or at least seemingly credible) projections on the amount of jobs your company could eventually create, and detail each milestone that would to key hires.