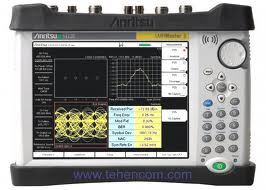 U.S. Government, military and prime contractors can now get a free demo on the Anritsu LMR Master S412E Handheld Cable and Antenna Analyzer.
The S412E is Anritsu's second generation solution for installing and maintaining public safety systems. Built on Anritsu's ninth generation handheld platform, the S412E combines a high performance receiver / spectrum analyzer with the worlds most advanced hand held vector network analyzer plus a CW / P25 / NXDN signal generator with internally adjustable power from +5 dBm to –120 dBm.
The LMR Master is the ideal instrument for Land Mobile Radio (LMR) and Public Safety System technicians and engineers testing the RF performance of P25 and NXDN radios in the VHF/UHF, 400 MHz, 700 MHz, and 800 MHz bands.
The S412E can be configured to be equipped with a cable & antenna analyzer, spectrum analyzer, interference analyzer, channel scanner, Received Signal Strength Indicator (RSSI), AM/FM demodulation, RF power meter, GPS receiver, and P25 Tx Signal Analyzer P25 RF measurements, P25 Talk-Out Coverage Measurements, and NXDN Signal Analyzer.
U.S. Government, military and prime contractor facilities only
No obligation, costs or hidden fees
Free shipping to and from your facility
Limited slots available
Schedule a free 7-day field trial
Call GSAMart toll free at (888) 665-2765 x3745 or Sign Up