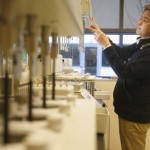 Some of the state's most innovative research is taking place in a large, nondescript, one-story building off Route 1 in North Brunswick.
Twenty-five biotechnology firms have set up shop in the Commercialization Center for Innovative Technologies, a 10-year-old "incubator" for companies in the early stages of their research or foreigners beginning to conduct research in America. The facility offers access to labs, affordable rent, common areas like conference rooms and — most important of all — a network among each other, the state's pharmaceutical industry and 15 research universities in New Jersey and nationwide.
Those perks are what drew the Japanese pharmaceutical company Shionogi to the facility last month. Dan Sherer, a scientist with Shionogi's operations in New Jersey, is in the midst of setting up their new laboratory for drug development. The company's U.S. corporate headquarters are in Florham Park, but had been outsourcing its product research for pain management and women's health drugs, among other products. Now, Shionogi is bringing the work in-house and jumped at the chance to work at the North Brunswick facility.
"This was a good way to get our foot in the water with reasonable costs, not only from an equipment point of view but also from an outfitting point of view," Sherer said. "It's an economic way to get things started, and have room for expansion."
The incubator program is part of the EDA's larger Technology Centre of New Jersey, which at more than 50 acres of land, offers more established companies customizable laboratory and production facilities. Biotech firms that have "graduated" from CCIT can also lease space here. The goal is to help companies get started and then as they grow, give them a reason to stay in New Jersey, EDA chief executive officer Caren Franzini said. There are resources on hand to help companies with their business plans and connect them with executives at bigger pharmaceutical companies and researchers at Rutgers University, Princeton and other universities. So far, seven companies have moved on from the CCIT labs.
There is a collegial environment at CCIT that gives its tenants a chance to share the pains and victories of their endeavors along the way, said Kathleen Coviello, EDA's director for technology and life sciences, who oversees the program.
"We really want folks to see that this is a convenient place for them and that there's a lot of synergistic ideas going on," Coviello. "Pooling all the resources together benefits the greater good."
It doesn't hurt that the building's extensive amenities like audio/visual equipment and shared kitchens, and sunny, light-filled common spaces gives a good first impression to visitors.
Marc Burel, vice president and chief operating officer of Orthobond, said investors see the space and jokingly ask him why his company needs money.
"It's a beautiful facility — we look like we have money, but we don't," Burel said, whose company is developing a technology that would adhere antibiotics to medical devices and help reduce the infection rate among patients. Orthobond first moved to CCIT two and a half years ago with three employees and two labs. It has since expanded, and now has 11 employees and four labs.