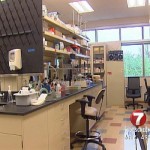 BOISE — It's not really something you expect to happen at a VA hospital, but, the Boise VA has been studying infectious disease and bacteria for years. Now they're getting a new high-tech facility.
Dr. Dennis Stevens is one of the researchers at the new Boise VA laboratory is studying ways to prevent the spread of disease that many service men and women contract in the field. He says injuries caused in combat often leave open wounds that become more susceptible to infection. He also says the research he's working on will help not just veterans but everyday people.
"We tend to study the ones that cause the most devastating diseases to mankind," said Dr. Stevens.
With new state-of-the-art equipment at the Biomedical Research Laboratory, Dr. Stevens will be able to study new ways of preventing deadly flesh-eating bacteria, as well as gangrene.
Stevens says research on antibiotics here has been published in medical journals and used as reference. "We've been able to change patient care throughout the nation and throughout the world based on the studies that we have done here," said Dr. Stevens.
The new laboratory has been five years in the making. It replaces the old laboratory which is more than 30 years old and built in the basement of a building. The new facility is 18,000 square feet, and it cost a total of $7 million. Funding was provided by the VA and the Murdock Charitable Trust.